If you're a knitting enthusiast, you know the importance of finding the perfect yarn for your project. While traditional brick-and-mortar stores have their charm, shopping for yarn online is becoming increasingly popular. You can access various options, and shopping from home is more convenient.
This guide will take you through a step-by-step process to buy yarn online. From researching yarn types and brands to finding the best online yarn stores, we've got you covered. We'll also offer tips on comparing prices and deals, navigating online shopping platforms, and checking shipping and return policies.
From the technicalities of joining yarn to a provisional cast to navigating the digital realm to purchase yarn online, knitting and crochet offers a blend of traditional techniques and modern conveniences.
Key Takeaways
Shopping for yarn online offers a wider variety of options and is more convenient than shopping in-store.

Researching yarn types and brands is crucial to finding a suitable yarn for your project.

There are many online yarn stores to choose from, so it's essential to find the one that best suits your needs.

Comparing prices and deals can save you money when shopping for yarn online.

Navigating online shopping platforms can be tricky, but understanding search filters and product descriptions can make the process easier.

Checking shipping and return policies is essential before making a purchase online.

You can have a smooth online yarn shopping experience by following these tips.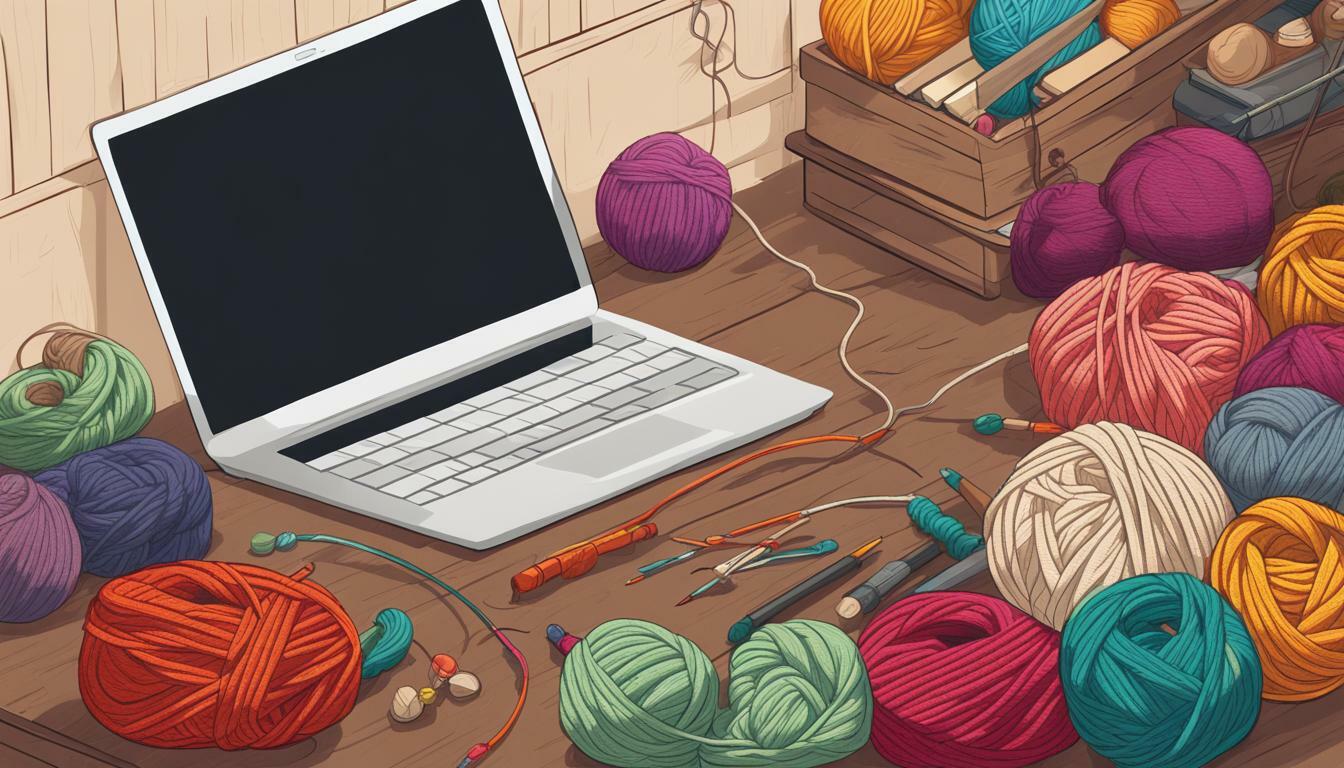 Benefits of Buying Yarn Online
When it comes to purchasing yarn, there are many benefits to shopping online. Online yarn stores offer extensive yarn options, including unique and hard-to-find varieties. In just a few clicks, you can go through various online yarn stores and identify the ideal match for your project.
Another advantage of purchasing yarn online is the convenience of shopping from home. You can circumvent the inconvenience and costs of traveling to a physical store, opting instead to shop at any hour, day or night. Online yarn retailers also offer free shipping with a minimum purchase, saving you even more time and money.
Besides convenience and accessibility, online yarn shopping can also provide significant savings. Many online yarn stores offer competitive prices and frequent sales and promotions, making it easy to find high-quality yarn at affordable prices. Furthermore, you can conveniently compare prices from various stores to pinpoint the most favorable deals, all from the comfort of your home.
Researching Yarn Types and Brands
Researching and choosing suitable yarn types and brands can seem overwhelming regarding online yarn shopping. However, taking the time to do so can result in a more enjoyable and prosperous shopping experience.
First and foremost, it's essential to consider the yarn's fiber content. This will determine the finished project's texture, durability, and care instructions. Popular options include wool, cotton, acrylic, and blend yarns.
Another aspect to consider is the yarn weight, which signifies the thickness of the yarn. Different weights are suitable for different types of projects, so make sure to check the recommended weight for your pattern.
In addition to these factors, it's also essential to consider the quality of the yarn. Product descriptions and reviews can provide insight into the yarn's softness, color accuracy, and overall performance.
Online yarn shopping platforms often offer a vast selection of yarn types and brands, making comparing and researching options easy. Use search filters and categories to narrow your options and find exactly what you're looking for.
By dedicating time to research and select the appropriate yarn types and brands, you can guarantee that your completed project aligns with your expectations and that your shopping venture culminates in success.
Finding the Best Online Yarn Stores
Finding the right online store can make all the difference when purchasing yarn online. Not all online retailers offer the same variety, quality, or prices regarding yarn. Therefore, it's essential to put in some time and effort to find a reliable and quality digital store to purchase from. Here are some tips:
1. Explore popular online yarn stores.
Many yarn online stores in the US cater to the needs of different yarn enthusiasts. Explore popular yarn websites like Knit Picks, Webs, and Jimmy Beans Wool to get started. These are established stores with a vast selection of yarns, patterns, and accessories, often at competitive prices.
2. Check out online yarn marketplaces.
Explore online yarn marketplaces like Etsy, Ravelry, and LoveCrafts if you want unique or hard-to-find yarn. These platforms allow independent sellers to showcase and sell their yarns online. Many of these yarns are hand-dyed or made in small batches, making them one-of-a-kind.
3. Look for sales and discounts.
Online yarn stores offer sales and discounts, making stocking up on your favorite yarn affordable. Be sure to explore the "sale" sections on the websites you're interested in and consider subscribing to their newsletters to receive updates on their latest promotions. Some stores also offer promo codes that can be applied to your purchases for an additional discount.
4. Read customer reviews
Before making a yarn purchase from an online store, take the time to peruse customer reviews. These reviews can offer insights into the quality of their products, shipping durations, and customer service. By reading customer feedback, you can gauge the credibility and reliability of a store.
Following these tips, you can find the best places to buy yarn online at affordable prices. Take your time to research and compare different online stores to find the perfect match for your yarn needs.
Comparing Prices and Deals
One of the most significant advantages of buying yarn online is the opportunity to find great deals and discounts. Online yarn stores often have sale sections to find high-quality yarns at discounted prices. Additionally, many stores offer promo codes and special promotions to help you save money on purchases.
It's important to compare prices across online stores to maximize these discounts and deals. Take the time to browse several websites and compare prices for the same or similar yarns. This can help you find the best deals and get the most affordable prices for the yarns you need.
Another way to save money when buying yarn online is to sign up for email newsletters from your favorite online stores. Many stores offer exclusive deals and promotions to their subscribers, which can help you save even more on your purchases.
Remember to watch for special promotions during holidays and sales events, such as Black Friday and Cyber Monday. These are often great times to stock up on yarns at discounted prices.
By comparing prices and taking advantage of deals and discounts, you can buy yarn online cheaply and still get high-quality yarns for your knitting and crochet projects.
Reading Product Reviews and Ratings
When buying yarn online, it can be challenging to determine the quality and characteristics of a particular product. This is where reading product reviews and ratings can be extremely helpful. Customer reviews provide honest feedback on the yarn's texture, color, durability, and ease of use. But how do you know which reviews to trust?
First, look for reviews with detailed descriptions and photos. These are usually more informative than shorter reviews with generic statements. Also, pay attention to reviews from verified purchasers, often labeled as such. These reviews are more trustworthy than those from anonymous or unverified sources.
To gain a well-rounded perspective of a product, it's essential to peruse various positive and negative reviews. Don't be discouraged by a few negative reviews – some people may have had a bad experience due to factors that don't apply to you.
Finally, watch for reviews that mention affordable yarn options or discounts. This can help you save money on your purchase while ensuring quality yarn.
In conclusion, reading product reviews and ratings is crucial in buying yarn online. By adhering to the provided guidelines and dedicating time to review readings, you can make well-informed choices and discover the ideal yarn for your project, all at a reasonable cost.
Navigating Online Yarn Shopping Platforms
Online yarn shopping platforms can sometimes be overwhelming, but they can provide an incredible selection of yarn with the right approach. Here are some tips to help you navigate online yarn shopping platforms with ease:
Use filters:

 Most online stores offer filtering options to streamline your search, allowing you to narrow down your choices by yarn type, color, brand, fiber, weight, and price. This makes locating your desired items a more seamless process.

Read product descriptions carefully:

 Read product descriptions, fiber content, and weight to ensure you select the suitable yarn for your project.

Search for specific yarns:

If you already know the type of yarn you need, use the search bar to find it quickly. If you're need more clarification, browse the categories to see what's available.

Check for product availability:

 Make sure to check the availability of the yarn you want before adding it to your cart. Some yarns may be out of stock or have limited quantities available.
By utilizing these tips, you can be sure to find the perfect yarn for your project on online yarn shopping platforms.
Finding the Best Online Yarn Stores
There are numerous online yarn stores to choose from, but not all of them offer the best products or prices. To find the best stores to buy yarn online in the USA, consider the following tips:
Research popular online yarn stores. 

Start by searching for popular online yarn stores in the USA, as these will likely offer a broad selection of quality yarns at affordable prices. Some popular sites include Joann, Michaels, and Lion Brand Yarns.

Check reviews and ratings.

 Before making a purchase, take the time to read reviews and ratings from other customers who have bought from the store. Reviews offer valuable insights into product quality, shipping durations, and customer service standards.

Look for deals and promotions.

 Many online yarn stores offer regular deals and promotions, especially during holidays and special events like Black Friday or Cyber Monday. Watch for these sales to save even more on your purchases.

Factor in the shipping and return policies. Before finalizing your order, review the store's shipping and return policies. Some stores might provide free shipping on orders surpassing a specific amount, while others could apply a standard fee or propose expedited shipping at an extra cost. Knowing the store's return policy is also essential to return or exchange a product.

Compare prices.

Finally, compare prices between online yarn stores to find the best deals. It's also good to compare prices for specific yarns or brands to ensure you get the best value for your money.
These tips will help you find the best online yarn stores in the USA and get the most out of your online yarn shopping experience.
Tips for a Smooth Online Yarn Shopping Experience
Online yarn shopping can be a convenient and affordable way to stock up on your favorite fibers or discover new ones. Here are some tips for a smooth experience:
Create a wishlist:

 Most online yarn stores allow you to create a wishlist of items you like. This makes it easy to keep track of items you may want to purchase in the future.

Please track your order:

 Once you've placed an order, track it to know when to expect your package. Most online stores will provide a tracking number or link.

Look for special promotions:

 Numerous online yarn stores provide promotions, including perks like free shipping or discounts for first-time customers. Keep an eye out for these to save even more on your purchase.

Filter and search:

 Use the filters and search bar on the online store to find the yarn you want quickly and easily. You can often filter by fiber type, weight, and color.

Check for reviews:

 Be sure to read product reviews to understand the quality and suitability of the yarn you're interested in. This can help you avoid disappointment.

Compare prices:

 Feel free to compare prices among online stores to pinpoint the most advantageous deal. You may find that the same yarn is cheaper elsewhere.
By following these tips, you can have a smooth and hassle-free experience when shopping for yarn online. And with the variety of affordable yarn available, you can find exactly what you need for your next project.
Conclusion
Purchasing yarn online presents a convenient and economically savvy approach to amassing your preferred fibers and exploring novel ones. With the insights and details in this guide, you can execute informed choices and identify the most suitable deals within your budget.
Start by researching yarn types and brands, considering weight, fiber content, and quality factors. Find reputable online yarn stores that provide a diverse array of budget-friendly yarns. Engage in price and deal comparisons to ascertain you receive optimal value for your investment.
When shopping online, it's essential to read product reviews and ratings to make the right choice. Leverage the search and filter features online shopping platforms offer to locate specific yarns and navigate through product descriptions. Before proceeding with a purchase, carefully review the shipping and return policies.
In conclusion, enhance your online yarn shopping experience by forming wishlists, monitoring your orders, and staying vigilant for special promotions. Armed with these tips, you can relish a seamless and trouble-free online shopping journey, all while effortlessly expanding your yarn assortment.