If you enjoy knitting or crocheting, you know how frustrating it can be when your yarn starts to unravel. Not only does it make your project look messy, but it can also be a massive waste of time and effort. Fortunately, there are several strategies you can use to prevent your yarn from coming undone. In this guide, we'll explore ways to keep your yarn balls secure and intact so you can focus on crafting without worrying about unraveling.
Key Takeaways:
Keeping yarn from unraveling is essential for a clean and successful project.

Properly winding yarn and using holders and organizers can prevent tangles and fraying.

Storing yarn correctly with bands or sleeves can protect it from unwinding.

Avoiding common mistakes and following these tips can save time and prevent frustration.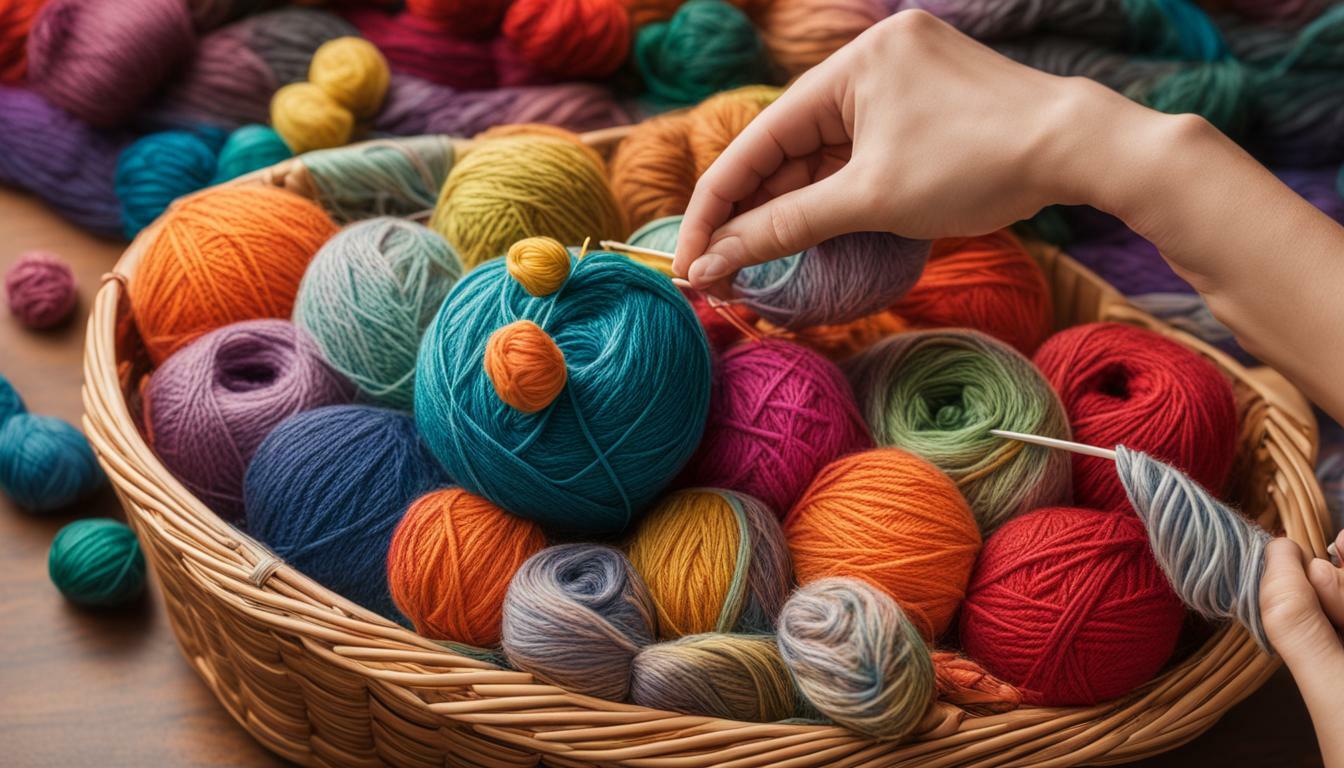 Understanding Yarn Behavior and Common Causes of Unraveling
Before we dive into the essential steps for preventing yarn from unraveling, it's important to understand the behavior of yarn and the common causes of tangling and unfurling.
Yarn Behavior
Yarn is made up of individual fibers that are twisted together to form a strand. Depending on the type of yarn, the fibers can be short or long, smooth or textured, and have different levels of elasticity. These factors can impact how the yarn behaves and its tendency to unravel.
Common Causes of Unraveling
Several common factors can cause the yarn to unravel:
Incorrect winding: If the yarn is not wound into a ball correctly, it can become loose and tangle easily.

Frayed or worn yarn: Over time, yarn can become frayed or worn, making it more susceptible to unraveling.

Excessive tension: If yarn is pulled too tightly while knitting or crocheting, it can cause the fibers to separate and unravel.

Environmental factors: Humidity, temperature changes, and exposure to sunlight can all impact the integrity of yarn and cause it to unravel.
Identifying these potential causes can help you take preventative measures to keep your yarn secure and intact.
Properly Winding Yarn into a Ball
One of the leading causes of yarn unraveling is improper winding. Yarn can quickly come undone and tangle when not wound tightly and securely. In your journey to prevent balls of yarn from unraveling, you can apply similar principles to those used when joining chainette yarn. Follow these step-by-step instructions to wind your yarn into a ball properly:
Locate the end of the yarn and hold it between your thumb and forefinger.

Create a loop by wrapping the yarn around your fingers with your other hand.

Place the loop on top of the end of the yarn and pinch it together.

Begin wrapping the yarn around the loop, moving your hand in a circular motion.

As you wrap, keep the yarn taut and make sure each loop is adjacent to the last.

Continue wrapping until the ball is the desired size.

Slide the end of the yarn through the center of the ball and tie a loose knot.

Gently pull on the knot to secure the end of the yarn.

Trim any excess yarn as close to the knot as possible.
It's essential to maintain the integrity of the yarn ball throughout the winding process. Steer clear of pulling the yarn too tightly, as this action can lead to the stretching and weakening of the fibers. A swift or yarn winder can also help ensure a smooth and secure ball.
Properly winding your yarn can help prevent it from unraveling and tangling during storage and use.
Using Yarn Holders and Organizers
Yarn holders and organizers can be excellent tools for preventing yarn from fraying and maintaining the structure of your yarn ball. They can also help you keep your workspace organized and tidy. Here are a few options to consider:
| | |
| --- | --- |
| Yarn Bowls | Yarn bowls are a popular choice made from various materials such as wood, ceramic, or plastic. They come in various shapes and sizes and often have a curved or slotted design that allows the yarn to move freely without tangling. Place the yarn ball inside the bowl and pull the end through the slot or hole. This will help prevent the ball from rolling away while you work and keep the yarn tangle-free. |
| Yarn Bags | Yarn bags are perfect for those who often take their projects with them. They're designed to hold multiple skeins of yarn and usually have small openings on the top that allow you to easily pull the yarn through while keeping the rest of the skein contained in the bag. This helps prevent tangling and ensures that your yarn stays clean and protected. |
| Yarn Containers | Yarn containers are similar to yarn bowls and are often made of plastic or acrylic. They usually have a lid that can be secured to keep the yarn ball inside and prevent it from unwinding. Some containers come with a hole or slot on the top, allowing you to feed the yarn through as you work efficiently. This option is excellent for those who like to keep their yarn in storage when not in use. |
No matter which option you choose, make sure to use it in a way that maximizes its effectiveness. For example, when using a yarn bowl, place the ball inside securely and remove any excess yarn on the outside to avoid tangling. When using a yarn bag, zip it up and keep it closed while not in use to prevent the yarn from falling out. Secure the lid tightly to keep the yarn ball inside and prevent it from unraveling when using a yarn container.
Storing Yarn Properly
Proper storage is crucial to protect yarn from unwinding and maintain the yarn ball's structure. Here are some tips to keep your yarn safe and secure:
Invest in a Yarn Bowl: A yarn bowl is designed to keep your yarn ball from bouncing around and unraveling. It also prevents it from getting tangled with other yarns. You can make one yourself or buy a fancy one online.

Use a Yarn Bag: Yarn bags are designed to keep yarn balls and your work in progress safe and organized. They usually have separate compartments and pockets for your crochet hooks or knitting needles.

Store Yarn in Containers: You can store yarn in plastic containers with lids to protect it from dust, dirt, and moisture. Choose containers with enough room to accommodate large yarn balls.
Remember always to keep your storage area clean and dry. Prevent placing your yarn near heat sources or direct sunlight, as these conditions can result in fading or loss of elasticity in the yarn.
Using Yarn Bands or Ties
If you need to transport your yarn or store it for an extended period, using yarn bands or ties is an effective way to keep the yarn from coming undone and protect it from unwinding.
Before applying a band or tie, ensure your yarn is wound tightly and securely. Then, place the band or tie around the center of the ball and tie it tightly. You can also wrap the band or tie around the entire ball a few times for added security.
Using yarn bands or ties is especially useful for more delicate yarns prone to fraying or tangling. It's also a good idea to use them if you have multiple yarn balls of the same color to distinguish between them easily.
Utilizing Yarn Cuffs or Sleeves
If you're looking for another way to secure your yarn balls, consider using yarn cuffs or sleeves. These are small, stretchy tubes that slide over your yarn ball and keep it from coming undone. They're instrumental if you transport or store your yarn in a bag or container.
To use a yarn cuff, slide the tube over your yarn ball until it's snug. You can also make your cuffs by cutting a long, thin strip of fabric and wrapping it around your yarn ball multiple times. Secure the ends with a knot or by sewing them together.
Another option is a yarn sleeve, a slightly larger tube that can simultaneously hold multiple yarn balls. This is ideal if you're working on a project that requires several different colors of yarn. You can keep all your yarn balls in one sleeve and prevent them from tangling or unraveling.
Yarn cuffs and sleeves come in many materials, including silicone, cotton, and neoprene. Choose the one that best suits your needs and preferences. With their help, you can keep your yarn balls secure and protect them from unwinding.
Avoiding Yarn Tangles during Projects
Ensuring that yarn doesn't tangle during a project is essential to prevent it from unraveling. Here are some tips to help you avoid tangling and keep your yarn from unfurling:
Always use a center-pull yarn ball to avoid tangles as you work.

If you're using a skein of yarn, wind it into a center-pull ball before starting your project.

Keep your yarn in a project bag or bowl to avoid tangling with other yarns or objects nearby.

Use a yarn guide to keep your yarn in line and prevent tangling while you work.

Work with smaller skeins of yarn to reduce the risk of tangling while you work.

Take breaks to check the tension and ensure your yarn is not tangling or twisting too much.
By following these tips, you can manage your yarn effectively and prevent it from tangling and unraveling during your project.
Repairing Unraveled Yarn
If your yarn has already unraveled, don't worry. There are ways to repair it and salvage your project. The key is to act quickly before the problem becomes worse.
Identify the Problem
The first step in repairing unraveled yarn is to identify the problem. Look for loose or frayed strands and determine where they came from. If the yarn has unraveled from the ball, gently unwind until you reach the damaged section.
Re-twist the Yarn
Once you've identified the problem area, gently re-twist the loose strands back into the main body of the yarn. Be careful not to pull too hard, which can cause the yarn to break. Instead, use gentle pressure to coax the strands back into place.
Secure the Yarn
If the yarn is frayed or has broken, you must secure it to prevent further unraveling. To do this, tie a knot at the end of the damaged section, ensuring it is tight and secure. Then, carefully trim any excess yarn to flush with the knot.
Maintain Yarn Ball Structure
After repairing the yarn, it's essential to maintain the integrity of the yarn ball. Be gentle when handling it, and avoid pulling too hard on the yarn. If the yarn ball begins to unravel again, repeat the steps above to repair it.
Stop Yarn from Fraying
Preventing yarn from fraying in the first place is the best way to avoid the need for repairs. Properly winding yarn into a ball and storing it in a suitable container are two effective methods for preventing fraying and maintaining the integrity of the yarn.
Additional Tips for Preventing Yarn Unraveling
Preventing yarn from unraveling is crucial for a successful knitting or crocheting project. Here are some additional tips to keep your yarn secure:
Use yarn weights appropriate for the project to prevent overstretching and unraveling.

Store your yarn away from pets or in a pet-free zone to prevent them from playing with or chewing on it.

Choose yarn textures less likely to unravel, such as plied or tightly spun yarn.
These additional tips can protect your yarn from unwinding and ensure a successful project.
Common Mistakes to Avoid
Preventing yarn from unraveling and preserving yarn ball integrity can be challenging, especially for beginners. However, avoiding common mistakes can keep your yarn in good condition and prevent unnecessary frustration. Here are some mistakes to watch out for:
1. Improper Storage
Leaving your yarn out in the open can cause damage, tangling, and unraveling. Ensure you store your yarn in a secure, dry location, away from moisture and direct sunlight. Yarn bowls, bags, and organizers are excellent tools for keeping your yarn intact.
2. Not Securing Loose Ends
Properly securing the loose ends is essential when starting a new yarn ball or changing colors. If left unsecured, the ends can unravel and cause a tangling and fraying chain reaction.
3. Over-Tensioning
Applying too much tension while knitting or crocheting can damage the fibers of the yarn, leading to breakage and unraveling. Ensure to maintain a relaxed grip and avoid pulling the yarn too tightly.
4. Not Checking Yarn Weight and Texture
Using the wrong weight or type of yarn can lead to problems such as tangling, fraying, and unraveling. Always check the yarn's label to ensure you use the correct weight and texture for your project.
By avoiding these common mistakes, you can increase the lifespan of your yarn and maintain its structural integrity. Remember these tips the next time you're working on a project, and you'll be able to easily prevent yarn from unraveling.
Conclusion
Maintaining the integrity of your yarn balls and preventing unraveling is a crucial aspect of knitting or crocheting projects. By understanding the behavior of yarn and taking preventative measures, you can avoid a frustrating tangle of strands and maintain the integrity of your projects.
Remember to wind your yarn properly, use yarn holders and organizers, store your yarn correctly, and use accessories such as yarn bands, cuffs, or sleeves to keep your yarn balls secure. Furthermore, exercise caution to avoid common errors like excessively tugging on your yarn or permitting pets to approach your projects.
Following the tips and tricks in this essential guide ensures that your knitting and crocheting projects are successful and enjoyable. Proper yarn management is critical to achieving your creative vision, whether you are a beginner or an expert.